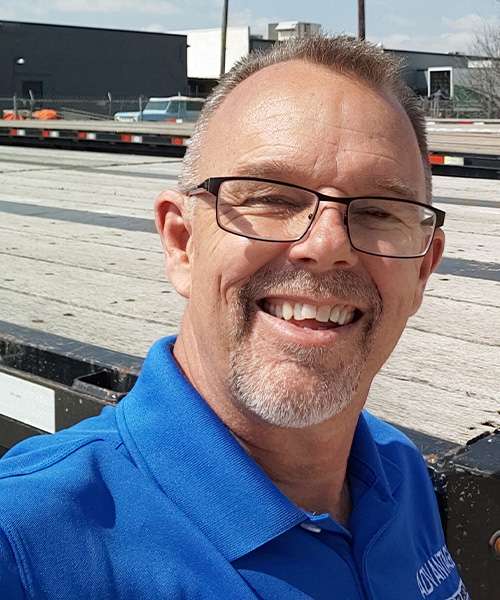 Mark Henderson is the General Manager of the Dallas location of Advantage Trailer Rentals in Texas. Mark is one of our long-time associates, having been with American Trailer Rental Group (ATRG) for seventeen years!
After 17 years, Mark has plenty to be proud of. "In the beginning, the accounting questions about CoGS, EBITA Margin, and Gross Margin seemed like something way outside of my comfort zone. Now, however, I can talk about these things with complete confidence. ATRG made it easy to successfully adapt to the logistical side of the business," Mark shared. Because he could branch away from his comfort zone, Mark has been able to thrive in his market.
"My favorite thing about working for ATRG is the challenge. Being labeled the Market CEO and given the autonomy to do what you feel is needed to accomplish your and the company's goals is really cool!" American Trailer Rental Group is proud to let our employees take the reins and make decisions that will best benefit their market and customer base.
"American Trailer Rental Group is different from other trailer rental companies because so many of our competitors focus on the "big guys" and forget the value of your smaller, local customers," he stated, "Customers that rent less than 50 trailers are some of the folks we want to target when seeking new business- no fleet is too small for us to handle."
Mark knows that his team has his back in even the toughest positions. "If something goes wrong, this group comes up with a plan to fix it. No blame-games and excuses, just solutions and elbow grease. ATRG's biggest strength is using hard work to get the job done."
Mark wants to make sure his customers know his team is here to help you find the right solutions and are as friendly a group as you will ever meet!
Mark also thinks his team's attitude is their biggest strength. "We have a good time together. Anyone who comes into the office is offered a soft drink and we find out how their day is going. Our vendors are also our trusted partners. I think these things are the reason we can enjoy and be successful every day."
Contact Us
If you are in need of logistics solutions in the Dallas-Fort Worth market, visit General Manager Mark Henderson and his team at our Advantage Trailer Rentals location at 931 Metromedia Place or call us at (214) 637-4506. If you have business throughout Texas and into the American Southeast, check out our full list of Advantage Trailer Rentals locations. Visit our website to request a quote online.
For American Trailer Rental Group locations throughout the United States and Canada, visit our website at americantrg.com.
Have questions? Email us at info@advantagerents.com.